If there's one visual that defines Torrent Consulting, it's this one: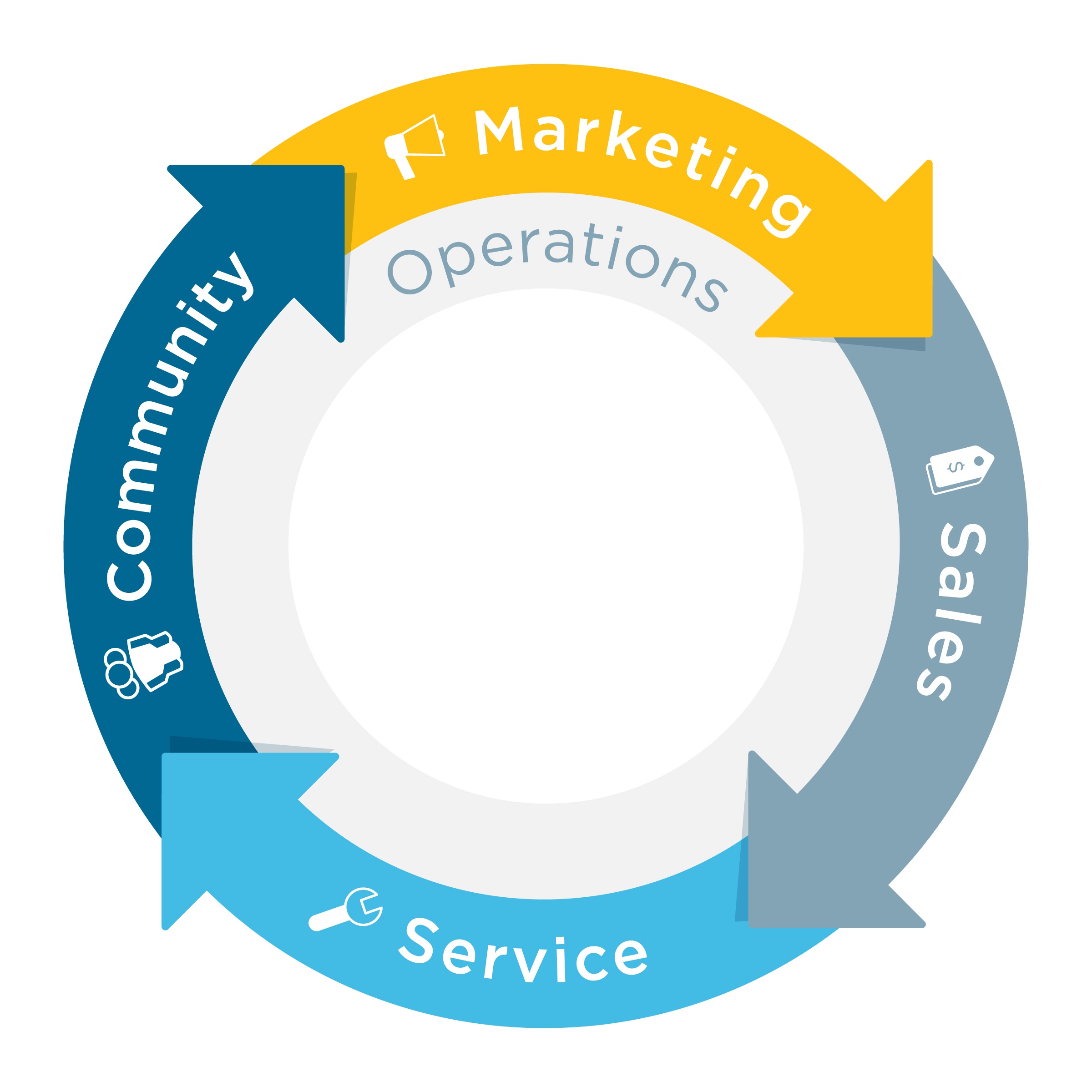 We call it the Customer Lifecycle, and it represents a core philosophy: We believe that if a business truly wants to thrive, it must create meaningful connections with prospects, serve them with the right products or services, and continue building those relationships even after the job is done. In other words, they need to stay customer centric.
The Customer Lifecycle has guided Torrent's significant growth, both as a course we follow and one we chart for others. As consultants, we want to help align business processes with technology to empower purpose-driven leaders — that's our why. The Customer Lifecycle is how we do it, and Salesforce is what we use to execute.
For many here at Torrent, this way of thinking has become second nature — a mastered language. As a new team member who's still working towards total fluency, however, I understand that technology can present a sticking point. I also know that it's a knowledge gap worth crossing, because the results are worth it.
In my next few posts, I'll cover the basics of Salesforce's core platforms, focusing on how they power each stage of the Customer Lifecycle.
Ready? Let's start with Marketing Cloud.
Marketing Cloud 101
For many businesses, the goal of marketing is to attract and convert leads. Stripped of its jargon, that means educating audiences about a particular product or service and identifying which individuals or groups are most likely to make a purchase. Those that seem ready to buy get passed to the sales team; those that don't need to be nurtured.
For marketers, there are a number of ways to reach these audiences: email, web content, social, mobile, advertising, events and more. Each of these channels presents a unique set of opportunities and challenges, of course, but the pros and cons get more complicated when layered on top of each other. How are you supposed to track and analyze so many multi-channel interactions?
Salesforce Marketing Cloud is a platform that makes all of that much easier. It allows marketers to create custom content, deliver that content through multiple channels and track the results. Say you want to promote an upcoming webinar. You could set up an email campaign that directs a strategically chosen segment of your contact database to the registration page. At the same time, you might set up a social advertising campaign.
With Salesforce, any new individuals who signs up for the webinar will appear in the platform as a lead. With each lead, you'll be able to see their basic information and which campaign brought them to your registration page. Post-webinar, you'll be able to see who attended and who didn't. Perhaps most importantly, you'll be able to keep track of all future interactions with leads, no matter the communication channel.
The example above presents a relatively simple use case, but Marketing Cloud is capable of automating complex, 1:1 customer journeys. However you use Marketing Cloud, you're gathering valuable data. Which channels are the most productive for your business? And which customer segments? As you continue to reach people in new ways, dashboards and reports will allow you to see exactly what's working and what isn't.
No matter your business, industry or even your particular marketing strategy, Marketing Cloud is designed to help you serve valuable content to the right people through the right channel — and then keep track of the results. This is a crucial first step in the Customer Lifecycle. If you're attracting the wrong leads, after all, your sales team is going to have a much harder time selling your products or services. And even if they do manage to make some sales, those customers aren't likely to go on to be engaged members of your community.
The right approach to marketing is the first key to a healthy business, and Marketing Cloud is one engine to drive success.