Most specialty healthcare practices rely on referrals for a large part of their business, but the complexities of referral networks make it difficult to glean actionable insights from referral data. Your practice is likely investing in referrer outreach and education efforts, but it's challenging to know whether those activities are translating to more referrals. You might wonder: Are we spending too much time on outreach? Not enough? Are we even approaching the right providers?
Hence the need for a referral tracking system. We at Torrent developed a solution to address these challenges in the healthcare space. Built on the Salesforce platform, it helps you track and organize referral data in a way that provides a deeper view into referral metrics and KPIs. From there, your practice and physician liaisons can turn those insights into actions bound to increase your patient base over time. Here are a few specific ways to do so:
The Torrent Referral Tracking System – How It Helps Your Practice
Compare outreach activities and outcomes side by side.
Your physician liaisons talk to a lot of care providers, but outside of word-of-mouth updates, it can be hard for them to know which activities are leading to referrals. Not so with this referral tracking tool. Here, you can see outreach activities and referrals on the same screen — for any referring MD or practice — to understand whether these efforts are translating to referrals. Your physician liaisons can then use this data to maximize the impact of their efforts. They'll spend less time courting physicians who just won't budge and can prioritize other targets instead.

Identify which MDs are referring you patients, for which procedures.
Even when an MD is referring patients to your practice, it pays to look at the data one level deeper. Which procedures are they sending you patients for? Are there any operations they aren't sending you referrals for? If the answer to the last question is "yes," it may hint at an opportunity to grow your practice.
This referral tracking solution can help you find these MDs that trust your practice but may not know about your full range of offerings. In doing so, it helps your physician liaisons get targeted with their outreach activities, educating these MDs about the procedures they're not aware of, to help drive a swift boost to your referral numbers.

See whether referrers are mentioning any of your practitioners by name.
If your practice is larger than a one-person shop, it helps to know where your patients are going to, not just where they're coming from. Which of your practitioners and practices are drawing the most referrals? Is there a noticeable difference in the numbers? If so, why?
Our patient referral tracking system can help you figure out the answers to these questions, enabling you to identify opportunities for growth by replicating the success of your sought-after MDs. Maybe they're active in local conferences; perhaps they were recently published. Our solution allows you to get to the bottom of it, get your other practitioners to copy their steps and lift your entire practice.

Track influencers — not just referrers.
Of course, referral networks extend beyond just MDs. Numerous people can influence someone to receive care: parents, spouses, even personal trainers. And this solution allows you to track referrals at this level, too, to understand this broader web of influencers. Should your practice engage in more community outreach? Maybe some consumer advertising aimed at these influencers? This referral tracker gives you the data to understand the best way to engage with the market.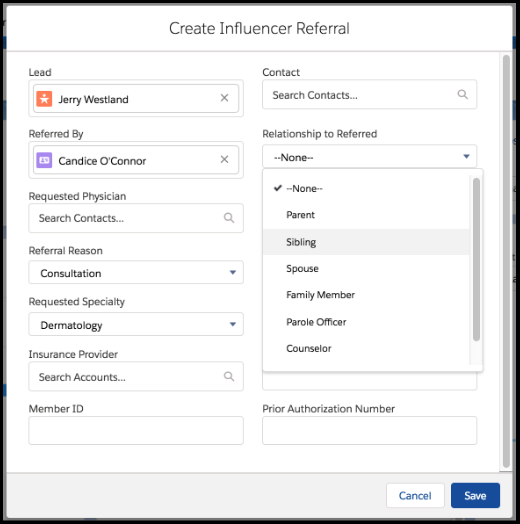 These are just some of the ways our new referral tracking system can help your healthcare practice grow. At the end of the day, this solution is fully customizable to meet your needs. If you're interested in learning more, check out the full demo here. The first step to better market insights is just a few clicks away.