One of the trickiest parts of being a Salesforce consultant or admin is keeping up with Salesforce's regular releases. Once you start to feel like you've got a handle on how Salesforce works, the platform goes and changes on you. It can make you feel like you're aiming for a moving target.
We get it, but we also encourage you to think of each Salesforce release as an opportunity to improve the Salesforce experience for your users. Each triannual update contains numerous helpful changes that any business can take advantage of — this one is no exception.
And here, we've laid out the 6 most impactful Spring '19 release updates: ones that any company can benefit from. As we mentioned in our article about Winter '19 updates, we still recommend browsing the release notes for this upgrade to discover all the changes that will affect your users. But these 6 modifications will be sure to help you no matter how you use the platform.
Salesforce Spring '19 Release — 6 Updates You Must Know
1. Increased data storage for all users
Speaking from experience here, this update is huge. Starting in March 2019, Salesforce will essentially provide all of its customers with 9 gigabytes of extra data storage. Previously, Salesforce provided its customers with a minimum storage space of 1 GB. That minimum will change to 10 GB, a massive increase. Salesforce will then give your business more storage for each user license you purchase.
Note: This increase only applies to your Salesforce data storage, not its file capacity. Any attachments, files, documents, etc. in your Salesforce org count against a different limit that will stay unchanged.
2. Pin list views to access them quickly
A small change that could make a massive difference to your productivity — any user can now "pin" their favorite list view so that it becomes their default list for that object. The pinned list is also highlighted when switching views. This new feature makes it easy to see the right records off the bat, sparing yourself extra clicks.

Note: This change applies to Salesforce Lightning only.
3. Spring '19 Lightning report enhancements
This release involves multiple changes to Salesforce Lightning reports that make it easy to slice and dice data the way you need it. Here's a quick rundown of the most useful: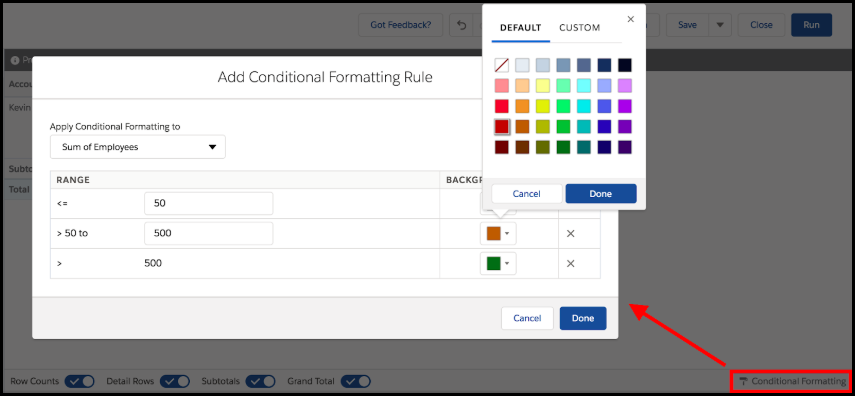 Improvements to the new Lightning "run page" – Salesforce Lightning's new "run page" (formerly the "enhanced run page" from the last release) has been updated to show up to 8 summary results (grand totals, subtotals, record counts, etc.) and to freeze the column headers when you scroll down in the report. For these reasons, the new "run page" is now the default run page in Lightning; you cannot switch back to the old view.
Stacked Summaries – If you're a fan of matrix reports in Salesforce, then this update is for you. When analyzing multiple variables at once on a matrix report, the new Stacked Summary option allows you to consolidate numerous fields of information into the same report cell, saving you horizontal real estate and making it easier to compare data.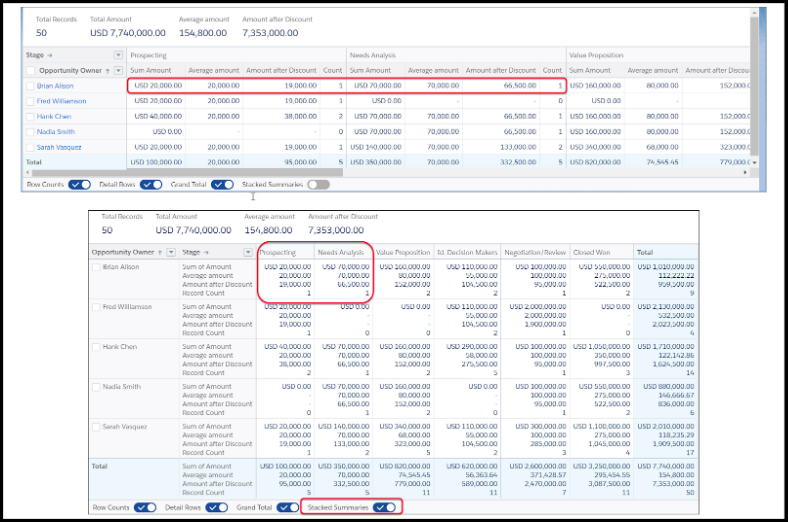 (Image Credit)
Note: These changes apply to Salesforce Lightning only.
4. A new and improved Flow Builder
If you've used Flow before, you'll love this next update. As you probably know, the old interface for the Cloud Flow Designer looked a tad… outdated… especially compared to newer tools like the Process Builder interface. Well, with this release, Flow has caught up thanks to the new Flow Builder.
This update involves more than just a better-looking screen. Salesforce also revamped the toolbox options to make your choices more intuitive. Overall performance seems better with the new tool as well, and the designer no longer requires Abode Flash (which means no need to update Flash every time you open a Flow). Overall, these updates allow your team to automate complex processes much more quickly than before.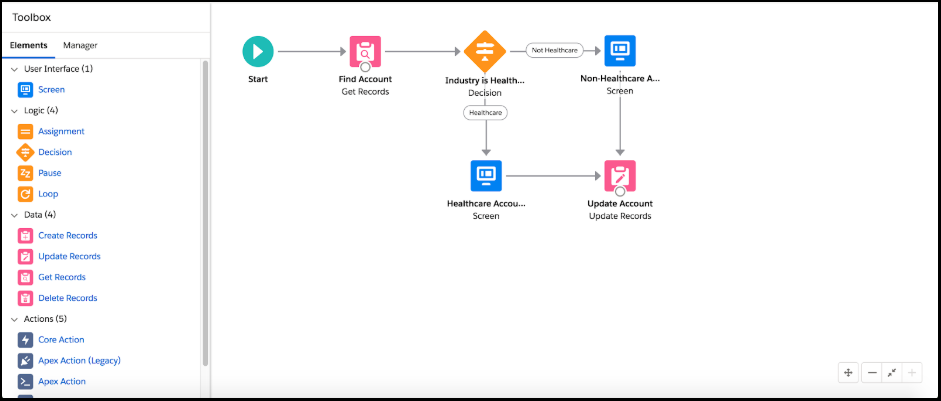 Your team doesn't need to take any action to benefit from this new feature. By default, all of your existing flows will migrate to the new UI, and the legacy one will be disabled. If you're feeling nostalgic and want the old one back, though, deselect the option for "Disable access to Cloud Flow Designer" in the "Process Automation" node of Setup.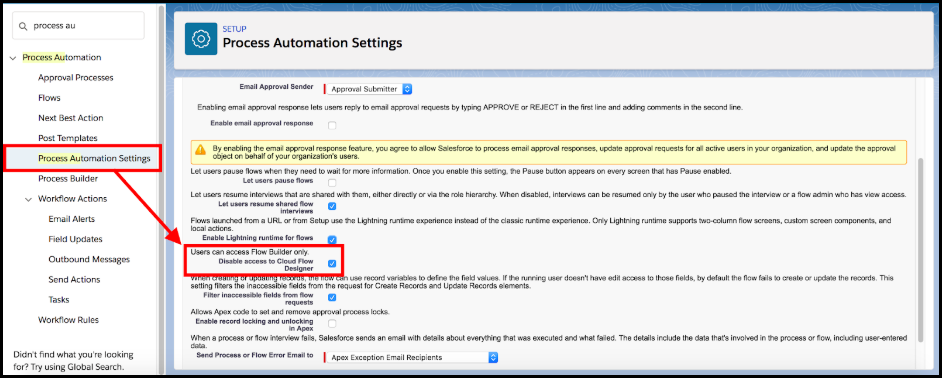 5. Launch automations from error messages
If you're a regular reader of our blog, you may remember one of our favorite Salesforce admin features for error handling — how to route all error emails to a consistent list of admin users. In Spring '19, this functionality takes another step forward. How? Salesforce now allows you to fire automated processes in response to error alerts. This is possible because Salesforce now records all automation and code errors as platform events — and you can set certain events to trigger automations.
So starting with this release, an error message doesn't need to be a dead end; it can be a new starting point in a string of automated business processes. This change allows for much better error handling (where the system can automatically correct specific errors) and more accurate error message routing (where all error messages about a particular Salesforce integration get sent to the team in charge of that integration, for example). This change opens numerous possibilities for your Salesforce functionality.
6. Customize the Salesforce Lightning Help Menu with your own content
Last but not least, if your team previously invested in customized training for your end users (which we recommend), then you probably have some helpful documentation on hand that's tailored to your specific Salesforce build. But these documents might be sitting on your company's shared drive, isolated from Salesforce. Wouldn't it be great to see your training materials directly in Salesforce? In a place where your users can easily access them when they have questions?
Now you can. With this release, your team can add up to 15 custom resources to the Salesforce Help & Training Menu. Link to videos, PDF documents, external web pages, and more to give your users the customized help they need to figure out your specific Salesforce-based processes, not just how to use Salesforce in general.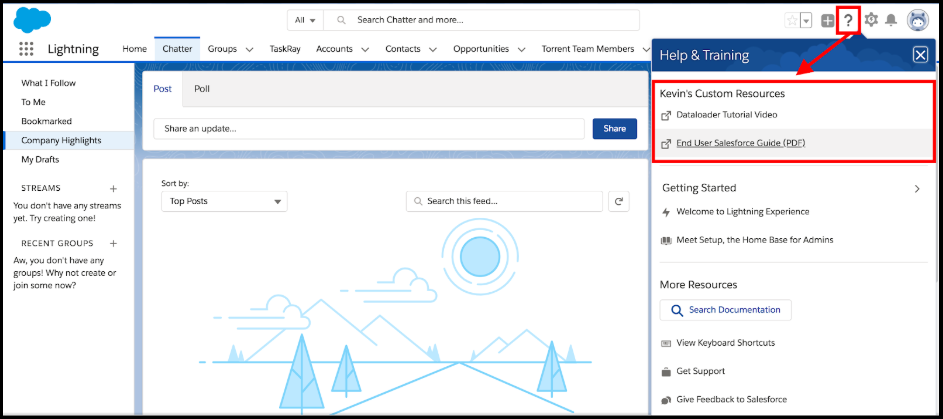 Note: This change applies to Salesforce Lightning only.
With these new changes, your team has the power to extend the functionality of the Salesforce platform, build more robust solutions quicker, and better enable your end users. Any company can take advantage of these Salesforce Spring '19 release updates — make sure yours doesn't miss out.
As you might have noticed, some of these updates apply only to Salesforce Lightning. If your business currently isn't using Lightning as much as it should, check out our on-demand webinar on how to get your team to love Lightning in 7 steps. Filled with useful Lightning adoption tips, it will help your team get the most out of these updates.
Editor's note: We originally published this article as "7 Salesforce Spring '19 Release Updates that All Companies Can Benefit From," as it also featured information about the ability to create objects from spreadsheets, which Salesforce originally planned to include in the Spring '19 release. Salesforce later removed this feature from the release, however.