Last month at Dreamforce, Salesforce announced a new addition to the company's Customer Success Platform: Customer 360. It's not a new product, but rather a way to connect all of Salesforce's other products. Here's a rundown of what we know so far.
What does it do?
To put it simply, Customer 360 allows you to connect all of your different Salesforce clouds via a point-and-click interface: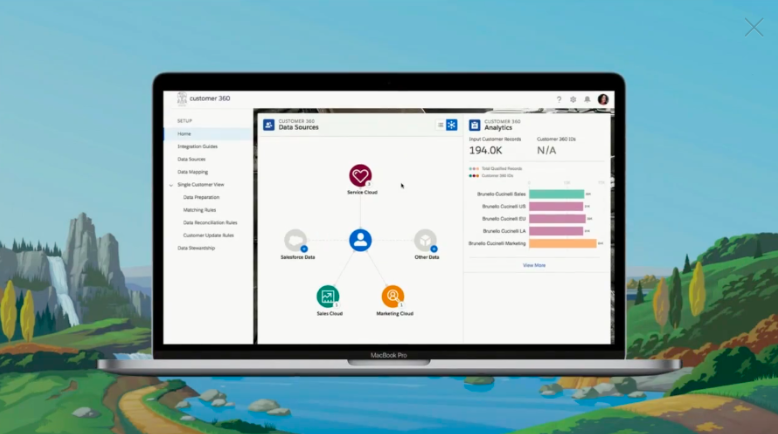 (Image Source)
In practice, that means your company's admin — rather than a developer — can create connections that give the rest of your employees access to all the customer data they need in a single place. It will even come standard with pre-built packages to cover some standard use cases, "such as a Service Cloud experience that enables agents to see purchase and browse history from Commerce Cloud, or a Marketing Cloud journey that is automatically triggered by an event in Commerce Cloud."
Customer 360 also allows you to bring in data from non-Salesforce sources via APIs in MuleSoft's Anypoint exchange. Here, you will need a developer to create the APIs — but once they exist, an admin will be plenty capable of deploying them. During his announcement presentation, Salesforce Co-Founder and CTO Parker Harris gave the audience an ecommerce example: If you want your customer service reps to be able to see what a customer has purchased, your admin can just "grab the Point-of-Sale API that will let [them] reach into the point-of-sale systems to understand what was bought at the point-of-sale location." Your reps will then be able to see a customer's recent purchases via a Lightning component on their profile: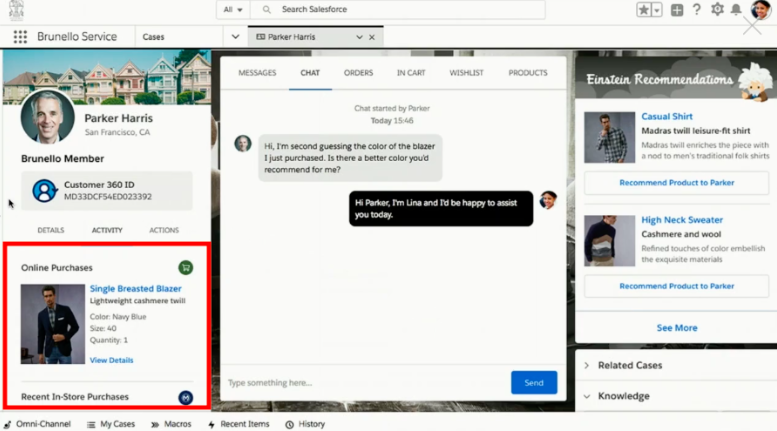 (Image Source)
How does it work?
Key to Customer 360 is the customer ID. According to Salesforce, "a single ID will enable… apps to recognize a customer across multiple channels regardless of how they identify themselves — name, email, phone number, social media handle, etc." As I mentioned above, admins will be able to use Customer 360 to create custom profiles that contain whatever customer information your employees need, drawing data from each of your company's clouds. This is possible thanks to the customer ID.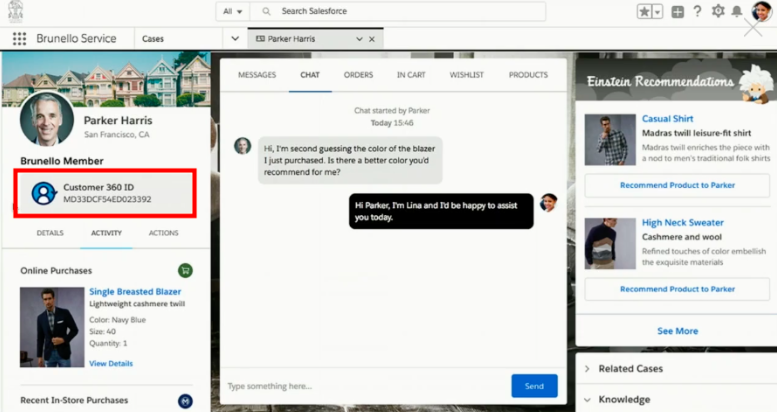 (Image Source)
And before you start worrying about duplicates in your database, know that Customer 360 will use matching rules to make sure you don't end up with repeat profiles.
Who is it for?
Given a heavy focus on Commerce Cloud and customer journeys in Marketing Cloud, Customer 360 seems designed for B2C organizations — but that doesn't mean B2B companies won't also benefit. Any company that wants to create a custom and comprehensive view of their customers using data from all of their Salesforce clouds should consider giving Customer 360 a try.
Why should you care?
As Salesforce readily admits, "the concept of the single customer view is not new." What's new is the way Customer 360 will deliver it. By giving users the ability to create world-class cross-channel experiences so easily, Salesforce is essentially invalidating any excuse you might have for maintaining siloed data that negatively impacts your customers.
In other words, you should care about Customer 360 for two reasons: The first is that you should want to create an amazing experience for your customers, and Customer 360 makes it simpler than ever. And the second reason is that if you don't strive to provide a better customer experience, your competitors most certainly will.
When will it be available?
Right now, Customer 360 is in pilot. It will be generally available in 2019.
Got other questions about Salesforce's latest addition to its Customer Success Platform? Let us know, and we'll do our best to answer!