Since the launch of Health Cloud more than 3 years ago, Salesforce has hardly been shy about its commitment to the healthcare space. In this time, it's turned the product into a market-leading enterprise health cloud, largely thanks to regular product updates that have transformed its healthcare offerings into the robust product suite they represent today. From their new Health Cloud for Payers to their standard triannual releases, Salesforce continues to pepper the market with increased functionality and enhanced security for healthcare providers, payers, labs and more.
The Spring '19 release is no different. This product update is filled with healthcare-specific enhancements designed to enable better outcomes across the healthcare space. Here, we're highlighting the 5 most significant changes hitting Health Cloud this spring, so you know what to expect when the update goes live.
The 5 Biggest Spring '19 Updates to Salesforce Health Cloud
1. Track environmental factors hindering patient/member care
We all know that healthcare doesn't just occur in hospitals and clinics — our health is influenced by thousands of factors from the air we breathe and water we drink to our social environments. With this release, Salesforce allows you to track the holistic aspects of someone's care right alongside the rest of their care plan. Its new Care Determinants Lightning Component lets you tie patients and plan members to common environmental factors affecting their health (for example, lack of access to healthy food options, unsafe housing conditions, etc.).
From there, your teams can log the appropriate interventions to mitigate each risk. These interventions could include determining a diet plan, securing stable housing or addressing unhealthy social situations. In all, this new tool allows your team to consider patient and member wellbeing more holistically — especially for higher risk individuals — to deliver better outcomes by addressing personal and environmental factors simultaneously, in the same platform.
2. Track patient referrals for more targeted referrer outreach
Previously, Health Cloud was fantastic at tracking treatment steps, follow-ups and outcomes for patients once they walked in the door. A gap existed, however, when it came to monitoring how patients actually got in that door. With this release, though, Salesforce has added patient referral tracking as record types of Leads and Opportunities, enabling your teams to understand better where your patients are coming from and what opportunities exist to drive referral growth.
Of course, the Salesforce ecosystem contains other solutions for this use case — we've built our own patient referral management package, for example. The architecture of this solution differs slightly from Salesforce's new approach, meaning each option comes with its own pros and cons. If you're interested in this sort of functionality but not sure which way to go, feel free to get in touch. We'll be happy to give you an unbiased assessment of which tool will be right for your needs.
3. Complete a health assessment on behalf of a patient or member
As you may know, Salesforce already allows you to send health assessments to your patients or members so that you can capture actionable response data in the Salesforce platform. But previously, you could only send these assessments through a Salesforce community, meaning that this functionality wasn't available to someone without internet access.

New in Spring '19, your teams can fill out patient or member assessments on behalf of someone else, meaning that this functionality is now available when patients/members call in or are with you in person. With more flexible health questionnaires, your team can benefit from a broader set of data across your Salesforce org, letting you understand individual risks and patient/member trends in greater detail.
Similar to the above, other options for creating and distributing health assessments exist. From this tool to third-party plug-ins such as Formstack, each solution offers different functionality; we can help you figure out which one is right for you.
4. Efficiently assign resources to patients or members with the Lightning Scheduler
There's a lot of behind-the-scenes work that goes into healthcare. Resource allocation is a particularly tricky sticking point; it's challenging to figure out the best way to grant each patient or member the most timely care possible while also ensuring they're seeing the resource with the expertise they need.
Enter the new Lightning Scheduler by Salesforce: It allows you to set the office hours, skills/specialties and locations of each resource within your organization — and then schedule patient or member appointments for the right MD, care coordinator or case manager based on these factors. It provides a more streamlined way of getting your patients or members the proper care while minimizing the cost of cancellations and no-shows.
Heads up, though, this feature does require an extra cost over standard Health Cloud. So again, it's worth considering this option alongside third-party options with similar functionality, such as Formativ Health's DASH tool and SUMO Scheduler, to figure out which option will serve your needs best.
5. Create your own patient or member mobile app (for less) with Salesforce's app templates
One recent push Salesforce has been making, particularly in the healthcare space, has been the expansion of Salesforce Community technology to mobile. Over time, Salesforce has made it easier and easier for payers and providers alike to build custom-branded mobile apps for their members and patients, respectively.
In Spring '19, this functionality takes another massive step forward. Salesforce's new mobile community templates reduce the setup time required to make your own branded mobile app and publish it to the Google Play Store and Apple App Store, allowing your patients or members to become more involved in their own care plans and track their progress toward their health goals.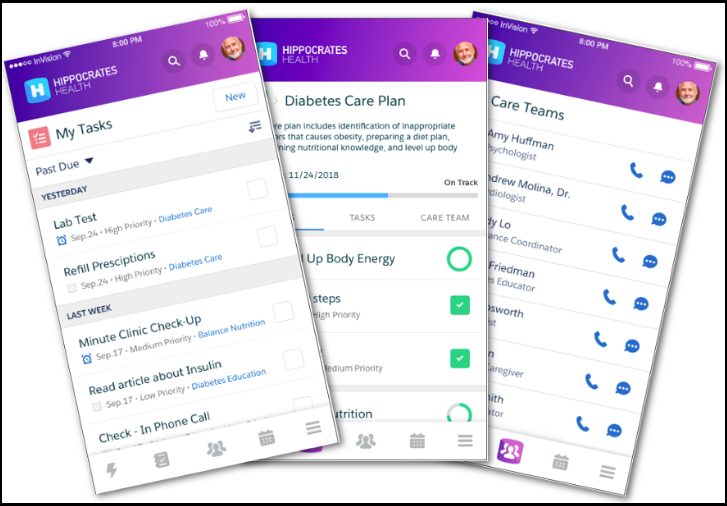 Looking for more ways to take your Salesforce technology to the next level? Check out our on-demand webinar on modernizing the patient experience through Salesforce. It walks you through ways of streamlining your organization's care process, from intake and referral management to care coordination.